Masking Tinnitus
Marsona® TSC-330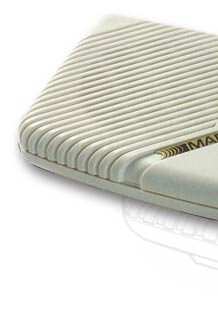 Information courtesy of Marpac


The Marsona Travel Sound Conditioner is ideal for the person on the move, helping create a familiar sound environment while away from home . The TSC-330 is compact and lightweight, yet offers the noise masking capabilities of many full sized sound conditioners. We utilize solid state technology to create "white noise" emulating Rain, Waterfall and Surf to effectively mask unwanted sounds and noise.
The TSC-330 operates at a touch with simple slide controls...one for volume, one for tonal range...and a three way sound selector, on/off switch. The portable TSC-330 fits easily into an overnight bag or suitcase and comes complete with a handy nylon Travel Pouch.
The TSCI-330 international model has a dual voltage power supply, which allows it to be used when traveling in countries with 220/240 volt power.
Features:
-Solid State Electronics
-Distinctive Styling
-Travel Pouch Included
-Adjustable Rain, Waterfall and Surf Settings
-Rain Waterfall Surf (low tone) Surf (high tone)
-Quality Construction
-One Year Limited Warranty
-Made in the U.S.A.

Physical and Electrical Specifications:
SIZE: 5 5/8"(L) x 4 1/8"(H) x 2 1/4"(D)
SPEAKER: 3 inch, 8 ohm
WEIGHT: 1.2 pounds (including transformer)
COLOR: Fog White
MATERIAL: ABS Plastic
TRAVEL POUCH: 7"(L) x 5 3/8"(H) x 2 3/8"(D) Black nylon with drawstring
ELECTRICAL: External wall mount transformer (UL, CSA, TÜV, CE, etc.) Household current converted to 12V DC or AC, 6 foot cord (1.83m) with 2.5 x 5.5mm power plug




Call for more info 1-800-924-1577


Return to PREVIOUS PAGE from Masking Tinnitus